Die Cohaku gibt's jetzt auch auf englisch!
Spread the Word!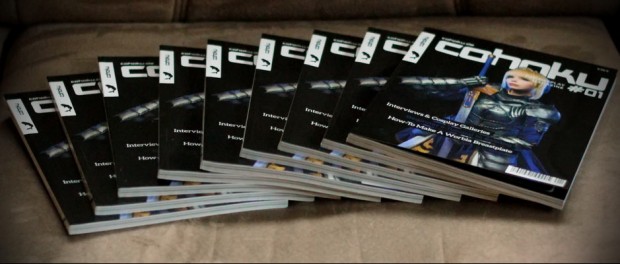 Nachdem es die deutsche Cohaku ja schon seit September 2013 gibt, ist nun endlich auch die erste englische Ausgabe erschienen.
Wie die deutsche Cohaku ist sie 162 Seiten stark und im selben handlichen Buchformat gefertigt. Die erste englische Cohaku ist quasi ein Best-of aus vielen schon in der deutschen Cohaku erschienenen Artikeln. Um genau zu sein sind es folgende Themen:
– A beginner's guide to sewing von Anna "Artflower" Schunk
– Cohaku textile guide – part 1 von Naraku Brock
– How to make corsages and corsetts von Naraku Brock
– Getting started in cosplay photography von Senta "Midgard" Gohr
– Basics of special effect photography von Benjamin Gauß
– Working with LEDs von Janine "Yumée" Baumgart
– How to make a Worbla breastplate von Laura "Lightning" Jansen
– Interview with international cosplayer Reika Arikawa
– Interview with international cosplayer Calssara
– Special feature: Man at Arms
– Creating realistic wig hairlines von Charmaine "Takeshi Cosplay" Herceg
– The A to Z of wig care von Sarah "Downpourin" Reichling
– Basics of cosplay makeup von Thao "Chikako" Nguyen
– Basics of crossplay makeup von Florence "bakka-tschan" Heyer
– All about contact lenses von Sophia "Soffel" Scheffler
Ihr lieben deutschen Leser müsst euch übrigens keine Sorgen machen in Zukunft auf Artikel verzichten zu müssen, nur weil sie in der englischen Ausgabe und nicht in der deutschen erschienen sind. Alle Inhalte, die es nicht in die deutsche Ausgabe schaffen, werden von uns für euch hier auf unserer kleinen Homepage zeitnah zur Verfügung gestellt werden. Wenn ihr also keine Sammler seid, müsst ihr nicht zur englischen Ausgabe greifen.
Solltet ihr dennoch nicht auf eure englische Cohaku verzichten wollten findet ihr sie hier in unserem Onlineshop. Und hier unten seht ihr, wie das ganze so aussieht: