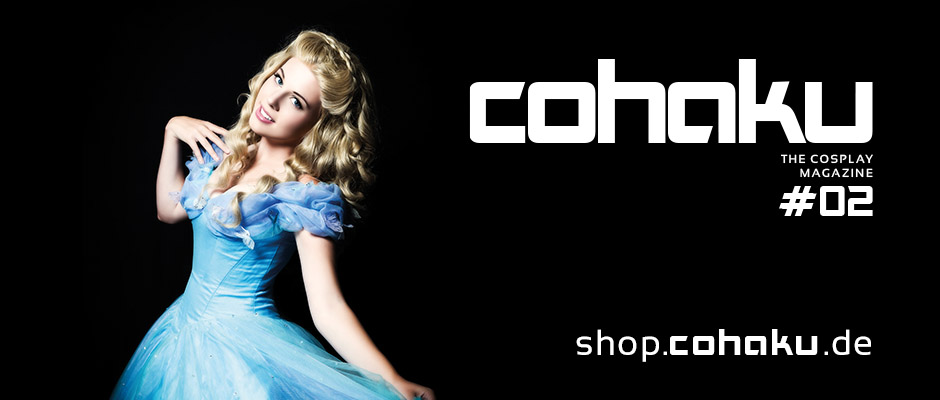 We're happy to announce that the 2nd English issue of Cohaku magazine is finally available! Learn everything you need to become a pretty princess or a noble prince in the cosplay-magazine Cohaku. If you'd like to buy the magazine, just click here.
The second issue of the cosplay magazine Cohaku is filled with wonderful tutorials: Learn how to make your own glass-shoes, a pretty petticoat for your ball gowns or how to style a wig like the little mermaid! Read everything about J.Hart in his wonderful interview and take a look at wonderful cosplay photography. Cohaku magazine offers you a wide range – for beginner and advanced cosplayer.
This is the table of contents of Cohaku ENG Vol. 2:
sewing & textiles
Cohaku textile guide – part 2 by Naraku Brock
How to make a petticoat by Chatterbox Cosplay
All about buttons and closures by Naraku Brock
Magical gradients on fabric by petiot
costume presentation
10 lid line styles for the optimal look by Vandrob Cosplay
False eyelashes from A to Z by Vandrob Cosplay
Backcombing wigs by RYOMO Cosplay
handicrafts
DIY glass shoes by Shiru-sama Cosplay
Crown crafting 101 by Kasan Cosplay Costumes
Simple steps to the perfect epaulette by Jeeze Cosplay
Using Worbla's Transpa Art by Erza Cosplay
community
An interview with Courtoon
Cohaku Photoset with Elyon Cosplay shot by Kazenary
An interview with J.Hart Design
photography
Cosplay photography with your smartphone by Sims Fotograf
special
About embroidery machines by Aigue-Marine Cosplay
Many thanks go to our gorgeous covermodel Courtoon as Cinderella and SaffelsPhotography for this magical shot!
—————————–
Get your own copy here!
The delivery time will depend on the destination. We are delivering via Priority Air Mail from Germany.