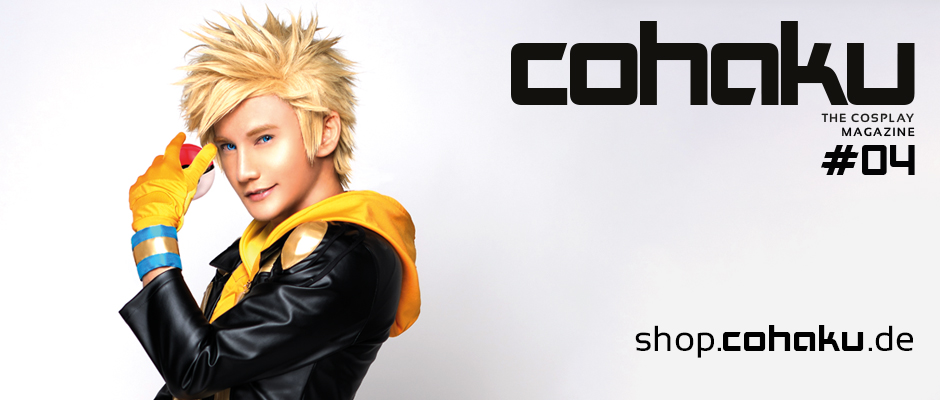 Finally!
We are so so happy to announce that Cohaku Vol. 4 (English) is now available!
You can get your copy in our Shop.
A few months ago we asked you to participate in a poll to decide which articles you wanted us to translate from our previous German issues. Your opinion matters to us. Consequently you can find the most popular articles of our poll in this issue of Cohaku magazine.
Here's the table of contents:
– Sewing & textiles –
The ABC of Sewing Machine Feet – Part 1 – by Fideralla
The ABC of Interlinings – by Socken Cosplay
Working with leather – by Pasta Cosplay
Making your own Floral Decorations – by Layla
– Costume presentation –
Making your own Buzzcut-Wig – by bakka cosplay – transformation artist
Stubble for Everyone – by Mietteamalie
Perfectly styled High Ponytails – by chiisaisaku
– Handicrafts –
Weathering Techniques – by bakka cosplay – transformation artist
Making your own Muscle Suit – by EyeofSauron Designs
Working With Worbla's Black Art – by Kamui Cosplay
Working with the "Arduino" System – by Strongarm
– Community –
An Interview with Liui
Coffee, black – Cohaku Photoset – by Sorairo-Days and B1NH Photography
– Photography –
Photographer's Feature: Pugoffka
Using Natural Light in Photography – by Von Nao
Do you like our new cover design? 

On the cover is awesome Liui as Spark (Pokémon Go).
The photo was taken by Joseph Conrad Impas.